6" Concrete Wall Definition Added to Lite
---
Banding Finish Options Added
When drawing banding, a list of default finish options is available. A profile view of these options is available in the Draw Polygon box.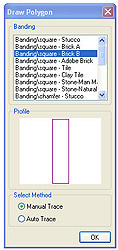 ---
Banding Profile Added
---
Block Cut of a Raked Wall Maintains Plate Heights
---
Blocking (Framing) in Curved Wall Improved
---
Cover Floor Option Added to Edit
When selected the outside wall material is ectened to cover the floor system. This was formerly done only if sub-floor was present.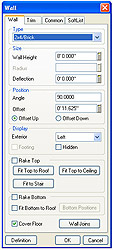 ---
Corner Board Size Can Be Edited on an Individual Basis
---
Curved Wall Appearance Improved in 3D
---
Curved Wall Change Wall Properly Maintains the Outside Radius of the Wall
---
Definition Option Added to Wall Edit Dialog
This feature opens up the Wall Definition dialog for the selected Wall. The wall definition can then be edited for the wall type selected.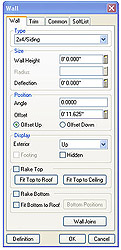 ---
Fit To Stair Command Added to the Edit Wall Dialog
---
Inner Most Alignment Option Added To Edit Wall and Change Wall
When the change wall command is used the option to align walls using the inner most part of the wall is now available.
---
New Wall Textures Block Reversed Added
---
Rake Bottom Command Added
---
Select & Edit Multiple Fields at the Same Time on Wall Definition Dialog
---
Step Wall Command Added
Based on the inputs of number, length, height and start point of step, the Step Wall command takes the existing wall and automatically creates individual wall sections of required length, height and offset.
---
Stone Walls Added to the Extended Wall List
---
Strapping Wall Material Added
---
Stucco B Added to Wall Materials
---
Stud With Drywall on One Side Added to Remodelers Wall Definition
---
Tar Material Added
---
Wall and Beam Definitions Can Utilize Profiles
---
Wall Join Tolerance of Zero Allowed
---
Wall Joins Improved in Situations Where Short Walls Join Each Other