Generated Grade Lines Automatically Display a Shot Point at Each End Indicating Height
Grade Lines can have the elevation changed via the edit dialog. Select the Site Polygon tab from the Edit Grade Line dialog and the elevation for the entire grade line can be changed at once. Editing the elevation of a grade line automatically changes the elevation for all the shot points along the grade line. This will make creation of site topography easier.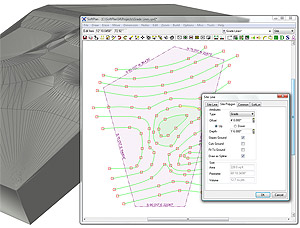 ---
Grade Lines Can Be Drawn as a Spline
When sketching a grade line onto plan, SoftPlan allows you to make the choice of adding the line as a spline if desired.
---
Grade Lines Slope Site by Default
---
Enhanced Site Poly Entry
Site Polygons can be placed either with a line/spline boundary or as a line with a width assigned. For example, a patio may be drawn as a polygon enclosed with lines. A planting bed may be a closed spline, a driveway a 20' wide object centered on the garage door, and the walk as a 4' wide object that has the edges aligned with the house. The ability to place site polygons as a line based polygon, makes drawing site plans easier.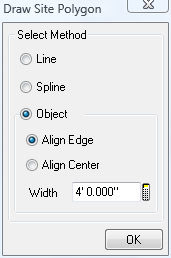 ---
Intersection of Two Polys Added to Snap
---
North Arrow Direction Can Be Changed via Edit of the Arrow Itself
---
North Arrow Symbols Automatically Point North
---
Polygon Tab Added to Site Polygon
This Polygon tab allows the entire site polygon to be edited for various properties including type, depth, and offset. This tab allows the entire elevation of a site poly to be changed.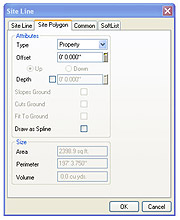 ---
Polygons Will Display as Shaded on Site Plans
The site polygon displays on the site with a shaded fill.
---
Reverse Option Added to Site Line
The Reverse option, when selected, changes the description of N 45 E to S 45 W. Note that the line itself does not change just the description.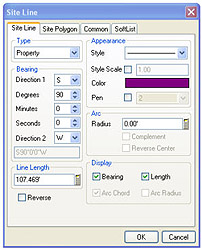 ---
Shot Points Display in the Same Color as the Item That They Modify
You now have the option to display shot points in the same color as the items that they are modifying. This feature is turned on by default. If you would like to display shot points in a different color you may uncheck the item.
---
Site Polygon Offset Field Allows Grade Lines to Slope Site
---
Site Polygons Can Be Moved Up and Down in SoftView
---
Site Work Polygons Can Be Entered Using the Options – Align Edge, Align Center, and Width