Access to Wall and Beam Definition Added to Wall and Beam Edit Dialog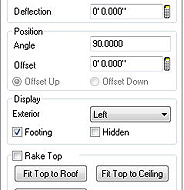 ---
Answer to the "Align" Question on Edit Wall Is Maintained for the Entire Session
.When changing a wall from one type to another, the selection you make in how the walls should align during the edit is kept for the rest of the session.
---
Block Form Polygon Command Added
The block form polygon command takes all possiible items in a block and forms polys.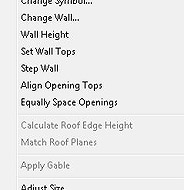 ---
Change Wall Will Not Introduce a Wall Thickness if the Source Wall Did Not Have a Thickness
The change wall command will not added a wall thickness to the source wall if the wall did not have a thickness originally.
---
Item Cleanup Added to Each Item
In Version 14, items must be partially on the screen to be located by the erase tool.This will prevent inadvertantly erasing large items that you can't see such as Site polys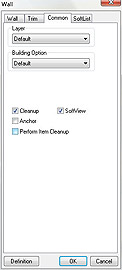 ---
Paste from Windows Clipboard Command Added
The contents of a the Windows clipboard can be pasted directly into the SoftPlan drawing. Four types of items can be created in the drawing: Text places unformatted text into the drawing, Multi Format Text is used to paste text from applications such as Microsoft Word that maintains all formatting, Metafile Image for items from Excel, and Image for raster files including raster versions of PDF files.
---
Step Wall Command Added
Based on the inputs of number, length, height and start point of step, the Step Wall command takes the existing wall and automatically creates individual wall sections of required length, height and offset.