Add Banner Command Added
SoftList now allows a logo to be added to the printed report.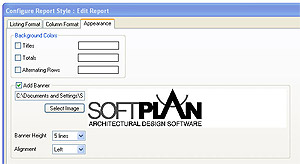 ---
Add Companion Material Added to SoftList
The Add Companion Material command has been added which automatically adds items to the SoftList Material report based on the presence of an item on the drawing. For example if you want to list a wax ring each time a toilet is drawn, to add a companion material simply edit the item on the drawing, select the SoftList tab, and Add Companion Material. Enter the name of the material being added and the cost. This is a quick and easy way to modify the way SoftList calculates the materials list.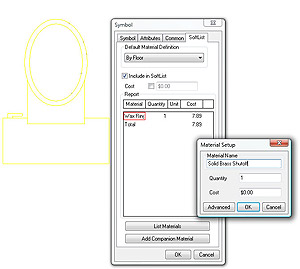 ---
Beam Variable Beam Offset Min Added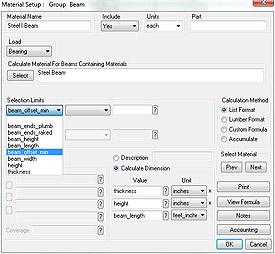 ---
BuildSoft (Australia) Export Added

---
BuildSoft Export Includes Item Field

---
Can Pick Specific Symbols for a Costing Material
---
Ceiling Board Under Stair Material Definition Added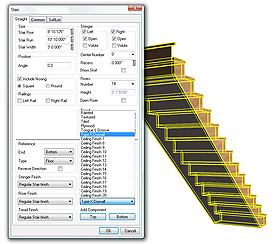 ---
Color Options Added to Reports
Titles, Subtotals and Totals can be set differently making the report easier to read.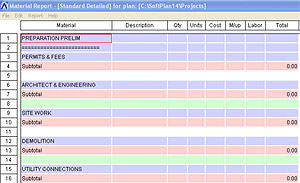 ---
Countertops List "Freeform" Separate From "Standard"
Using the Countertop Type field, you can specify to list either just freeform countertops or just countertops generated from cabinets runs or both.

---
Description Field Can Contain Text Rather Than the Material Size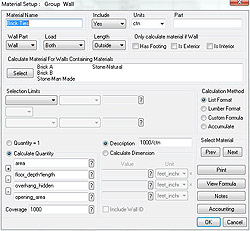 ---
Edit Material List Is Expanded in a Spreadsheet Format to Show More Information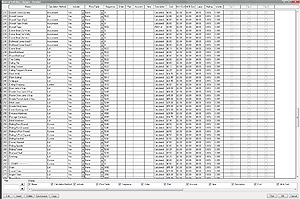 ---
End of Page Indicator Added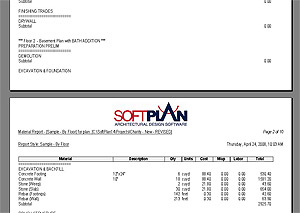 ---
Export to HTML Added

---
Frieze Group Added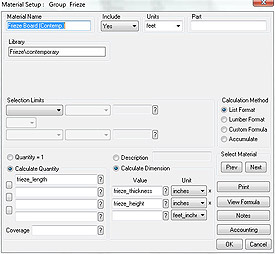 ---
Frieze Style Added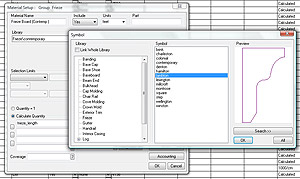 ---
Gable Vents Added to List
---
Generated Report Has the Option to Clear Floor Stack Variables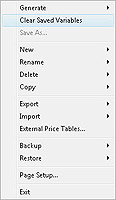 ---
Group Cabinet Will Access Cabinet Face Library When Defining Materials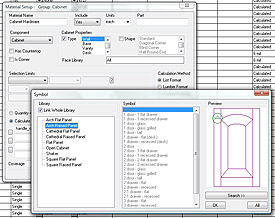 ---
Group Stair Variable Has Center Stringer Added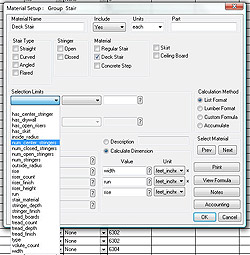 ---
Group Wall Variable Wall Radius Added
---
Header Material Definitions Added to Count Glulam, LVL, and LSL Opening Headers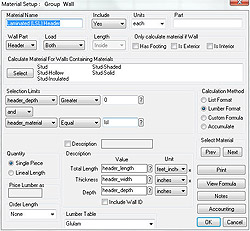 ---
Highlight Material Command Added
A material in SoftList is now connected directly to an item in SoftPlan. Select a material on a generated material list, and select Highlight entities, and the items on the SoftPlan drawing that were used in the calculation of that material automatically display. For example, if material Sill Gasket is selected from the report, Highlight material will display the floor plan and highlight all the walls that have a sill gasket.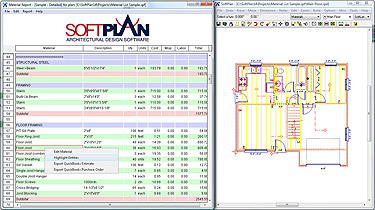 ---
Item Field Expanded to 30 Characters
---
Libraries and Tables Are Larger to Display More Information
---
List Materials Command Added to the SoftList Tab of the Edit Dialog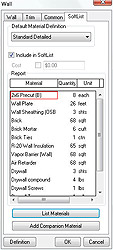 ---
Lumber Length Less Than 6' are grouped by Default in Standard Detailed by Floor Reports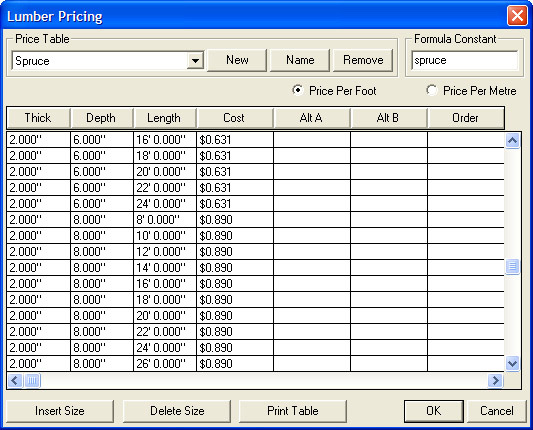 ---
Multiple Rows Can Be Deleted from a SoftList Report
When removing information from a report, multiple rows can be selected to removed at the same time.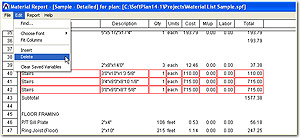 ---
On-the-fly Report Style Selection Has Been Added to the Material Configuration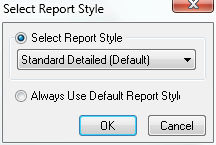 ---
ODBC Connections Can Be Made to Outside Data Sources that Can Be Stored Externally to SoftList in any ODBC Compliant Database via the Price Table
SoftList can communicate with any ODBC (Open Database Connectivity) compliant data source. This allows items such as prices to be automatically kept up to date by accessing information that is stored somewhere other than SoftList. For example, item pricing can be stored in a purchasing system or a Microsoft ® Excel spreadsheet and updated automatically, so there is no need to input pricing that exists in another ODBC data source into SoftList.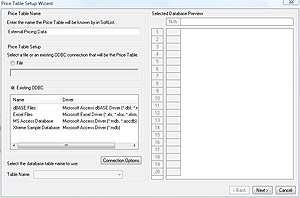 ---
Opening Trim Variable Added
---
Path and Material Definition Are Now Shown in Report Window Caption Bar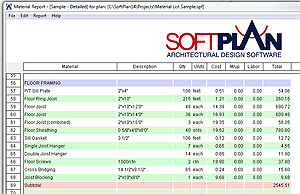 ---
Porch, Deck, and Regular Railings List Separate From Each Other
---
Print Range Added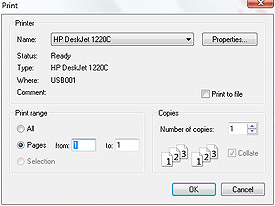 ---
Prompt Command Added to User Defined Variables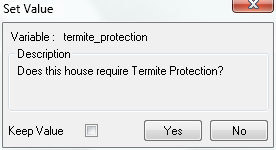 ---
Quoin Variables and Materials Added
---
Railing Finish Variables Added; Riser Finish, Tread Finish, Stringer Finish, Post Finish, Spindle Finish, Handrail Finish, Toe Rail Finish
---
Report Columns Alignment Added
Columns in a report style can be aligned as desired using the Column Format dialog. Alignment Options include left, right, and center.
---
Rod & Shelf Variables Added
---
Roof Components Hip, Valley and Ridge Have Access to "Material Type" Variable
---
Roof Sheathing Broken Down According to Sheet Thickness
---
Shelf Material Added
---
SoftList Materials Will Export to QuickBooks® Estimates And Purchase Orders
SoftList integrates directly with QuickBooks®. A SoftList report or portion of a report can be exported into the QuickBooks® accounting system. The information will import into QuickBooks® as your choice of an Estimate or a Purchase Order by simply opening both QuickBooks® and SoftPlan, highlighting the information you wish to move and selecting export. This opens up a new level of integration for the majority of SoftPlan users; those that use QuickBooks® for their accounting.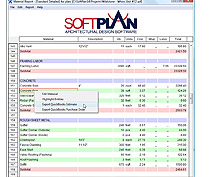 ---
SoftList Tab Added To Edit Dialog
---
Stair Variable Stringer Depth Added
---
Stone Wall Material Definition Added
---
Symbol ID's Can Number Up to 99999
---
Takeoff Highlight Tool Added
In the new SoftList mode a Takeoff Item Type is available. A Takeoff is user definable in name, color, and size. It can be placed automatically or manually on a drawing and appears as a highlighter would on a printed page.Once the Takeoff is placed, information such as area, perimeter, and volume is reported. This tool is useful to both enhance SoftList material calculations and work as a standalone tool for quick, easy, and accurate queries. For example, a Takeoff could be used to calculate your volume of heated space by simply tracing the perimeter of the conditioned space. Takeoffs works best on SoftPlan drawings as information such as wall heights is available but can also be used as a way for SoftList to calculate quantities for any drawing source (.DXF, .DWG, .JPG, etc.)

---
Takeoff Types Material Definitions and Report Style Added
---
Transoms Above Openings List on the Reports
---
Trim Type Bottom Added SoftList
---
User Variables Prompts Added Mid Generation
---
Visible Items (Drawing) Entry Added for SoftList Report
---
Wall Framing Can Be Listed on a Per Wall Basis
---
Wood Sill Material Definition Added