SoftPlan Version 14
"SoftPlan Version 14 is a huge hit … SoftPlan gives me control of the 3D model which is something not easily done in AutoCAD®. SoftPlan Version 14 is very content rich, in fact the best I have seen from any program."

Michael A. Collazo, AIBD, CPBD, Professional Residential Designer, Tampa, FL
Version 14 builds on SoftPlan's strongest features to create a program that has both increased power for experienced users and enhanced accessibility for new users.
I just bought the Version 14 upgrade and can't live without it. The improvements and additions to it are simply awesome! Tech support has always been phenomenal in their response time and their ability to solve problems.

Chris Proost, GW Homes, LLC in Mechanicsville, VA

Day-to-day operations within the software contain tools and features that increase the efficiency of the base program. Additional modules such as SoftView and SoftList have been streamlined to offer more functionality. Renderings in SoftView are now more practical for users, as images can be enhanced with less effort using rendering modes that add artistic touches automatically. Estimating in SoftList allows a greater level of integration with the ability to synchronize pricing information from outside database sources.
"I would greatly recommend making the jump. I've found just the simple things have saved me A LOT of time in plan preparation and completion and the new functionality of the rendering modes is awesome. I wouldn't hesitate to recommend upgrading."

John Honea, Olde South Design Studios in Snellville, GA
Download Version 14 Upgrade Brochure

This web page provides a listing of the top new features in Version 14. An extensive list of the other important features that have been included in the program can be found through the link below.
"V14 is a huge hit in my opinion! I love the rendering modes in SoftView. It allows you to do an awful lot with the options and makes editing very simple. I feel that SoftView gives me complete control of the model which is something not as easily done in Autodesk®. I love that I can now rotate the rendered mode round and round, plus draw openings, profiles, roof, floor, and ceilings in 3D. Silhouette and smoothing is also very welcomed. All in all, Version 14 is very content rich. There is more of everything such as a great selection of furniture, trees, vehicles, and manufacturer products including Sub-Zero, Kohler, Herman Miller, etc. In fact, the best I have seen of any program."

Michael A. Collazo, AIBD, CPBD, Professional Residential Designer in Tampa, FL
Other Top Features:
If a generated drawing like an elevation or section is saved over an existing version of the same drawing, any items that were placed on the original can be automatically merged into the new drawing. To change a gable roof to a hip on a fully annotated, dimensioned, and painted elevation is as simple as saving the revised elevation and opting to maintain the user drawn items from the original.
In Room Mode edit, select Design Size; a rounded size is added to the drawing. These sizes are enabled on an individual room basis, and would typically be associated with design or presentation drawings.
Over 150 new detail symbols have been added to the Details folder. These include standard 2"x6" details and the contents of the SoftPlan Details CD developed by West Coast CADD.
Multi Drawing allows a partial drawing to be added to a Multi Drawing. Selecting Display Portion of Drawing prompts for the part of the drawing to be displayed and the scale to be used. This will be useful for displaying portions of a large drawing at an increased scale for detailing purposes.
The Roof Finish Schedule command has been added. Information for Ceiling, Flooring, Wall Covering, Baseboard, Chair Rail, Crown Mold, and Bulkhead for all the floors in the house can be automatically added to the schedule.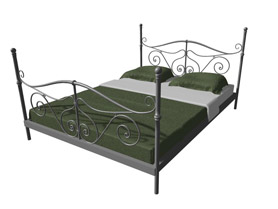 Several of the existing symbol libraries have been enhanced. The enhancements include the addition of hundreds of highly detailed textured 3D models. The furniture libraries include new folders of armchairs, beds, chairs, sofas, stools, coffee tables, dining tables, and end tables. The vehicles folder includes European and American models for several cars of different size and color. Additions to the decorative post library contain 20 highly detailed columns; Corinthian and Doric for example.
The Draw Opening command is available in SoftView. This allows placement of windows and doors directly onto the 3D model, elevation, or cross section.
The Difference command is used to compare the changes between two versions of the same drawing. Using the Difference command allows you to highlight the changes that have been made between the current drawing and another selected version of the drawing.
A Lock selection is available on both the Layer Setup and Building Options dialogs. Items assigned to the Building Option or Layer cannot be erased or moved.
In the new SoftList mode a Takeoff Item Type is available. A Takeoff is user definable in name, color, and size. It can be placed automatically or manually on a drawing and appears as a highlighter would on a printed page.Once the Takeoff is placed, information such as area, perimeter, and volume is reported. This tool is useful to both enhance SoftList material calculations and work as a standalone tool for quick, easy, and accurate queries. For example, a Takeoff could be used to calculate your volume of heated space by simply tracing the perimeter of the conditioned space. Takeoffs works best on SoftPlan drawings as information such as wall heights is available but can also be used as a way for SoftList to calculate quantities for any drawing source (.DXF, .DWG, .JPG, etc.)
When dimension strings are placed, the dimension numbers are automatically placed in such a way as to avoid other items that are already present on the drawing.
The Rod & Shelf edit allows for placement of multiple shelves. Users control the
number, depth, offset, and spacing of the shelves. This is useful in designing closets, as well as, for items such as bookshelves, if the rod is excluded.
The Auto Dimension and Extension Command has been added to System Options. When selected, the dimension and extensions are placed on items such as walls and openings as they are drawn.
Version 14 allows many items to be drawn or placed directly on the 3D model. In addition to items such as roofs and openings, a new item type, Profile, can be added directly to the model. A user defined shape is extruded along a three dimensional poly line. This can be used to place items such as a complex frieze.
The beam end style can be specified in edit beam end style, in addition to the Plumb and Rake settings with the ability to set the profile through Beam. This is set by assigning a user definable profile and is used for creating items such as decorative pergolas.
The Add Companion Material command has been added which automatically adds items to the SoftList Material report based on the presence of an item on the drawing. For example if you want to list a wax ring each time a toilet is drawn, to add a companion material simply edit the item on the drawing, select the SoftList tab, and Add Companion Material. Enter the name of the material being added and the cost. This is a quick and easy way to modify the way SoftList calculates the materials list.
When a Cross Section is saved, items in the Elevation are automatically saved to a different layer than a line from the same type of item that is cut by the section line. For example, the footing lines that display in the background are placed on Layer "Footing." The footing lines cut by the section are placed on layer "Footing X." This will make the lines and pens easier to manage.
Dimensions can now be modified via Repeat Edit. Both the Dimension value and the direction arrow, which indicates what items to move, are repeated.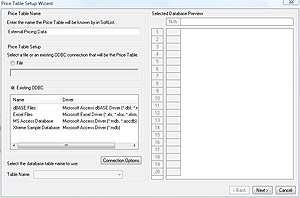 This allows items such as prices to be automatically kept up to date by accessing information that is stored somewhere other than SoftList. For example, item pricing can be stored in a purchasing system or a Microsoft ® Excel spreadsheet and updated automatically, so there is no need to input pricing that exists in another ODBC data source into SoftList.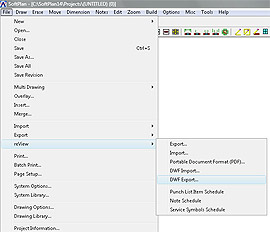 .DWF Import and Export has been added to SoftPlan review. This allows SoftPlan reView users to import and export the Autodesk® file format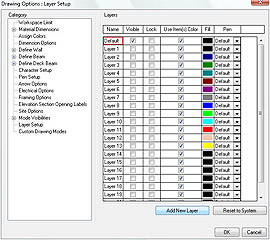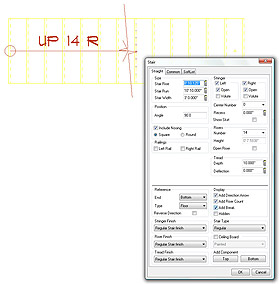 When you edit a stair the following automatic labeling functions are now available; Add Direction Arrow, Add Riser Count, and Add Break.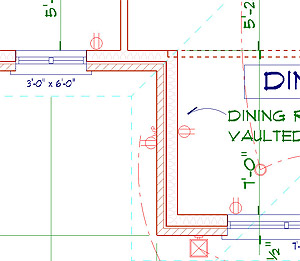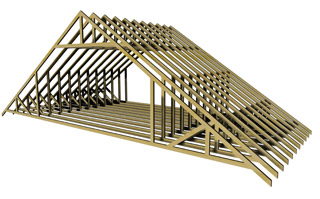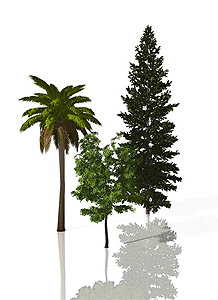 The Tree Libraries have been enhanced in Version 14. The additions for use
within SoftView include Palm Tree, Medium Surface Count, and High Surface Count tree libraries.