SoftPlan Home Design Software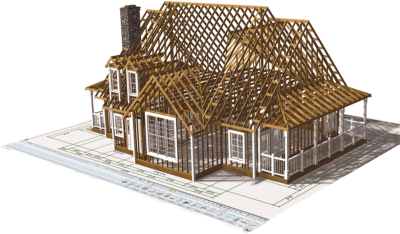 SoftPlan was formed to automate the process of home design and decades later, still remains the industry's leading residential CAD package.
SoftPlan allows you to create construction documents with absolute accuracy in a fraction of the time you could do so by hand. And since drawings are easily customized with fully editable objects, switching to SoftPlan will not change the signature look of your plans or interrupt your current workload.
Easy to Learn
SoftPlan's learning curve is the absolute shortest in the industry. With other CAD programs you draw lines to represent a wall. With SoftPlan you draw a wall because you're building a wall. SoftPlan's smart objects are designed to echo their real world equivalents. When a window is drawn, the shutters, trim, header, and jack studs are automatically added and the rough opening is framed with correct dimensions.
As you're adding all of this information to your floor plans, SoftPlan is assembling a highly detailed digital model. This "BIM" model is used to automatically create floor plans, elevations, cross sections, roof plans, framing diagrams, electrical plans, site plans, detail drawings and more with just the click of a button.
Sell More Homes
SoftPlan allows you to work smarter, not harder, to sell more homes. In today's competitive building industry, professional 3D renderings are indispensable design and sales tools. Bring your 3D to life using SoftPlan's advanced shadows, reflections, sun studies, and photorealistic graphics. SoftPlan allows you to captivate clients early on in the design process by showing them easy to create stylized renderings.
More Satisfied Clients
Satisfied clients are a guaranteed way to distinguish your company from the competition. SoftPlan allows you to give optimum personal service to your clients. By giving them a 3D tour of their home before it's built, you can work with your clients to tailor the home to their unique needs.
• View a 3D rendering during any phase of the design process.
• View the rendering from different perspectives, interior or exterior.
• Apply textures like hardwood & brick or your own custom textures.
• Create realistic shadows and reflections.
• Import backgrounds and images from your digital camera.
• Click here to see the 3D Gallery.
"There is no way to draw a floor plan any faster than with SoftPlan. Even if all you work with are floor plans, SoftPlan is for you. My revisions are a snap. I design a wide variety of homes - simple to very complex with all types of foundations. SoftPlan is perfect for what I do because it is specifically programmed to design and detail residential homes."
Larry James
Monroe, LA, USA
Click on the topics below to find information on SoftPlan's easy and powerful design tools.