New Offering
SoftPlan is now offering a more economical way of running multiple SoftPlans in the office. Now you can purchase SoftPlan Network. SoftPlan Network comes with two keys; a Master and a Registration key. The Master key must be plugged into a computer on the network at all times. The registration key is only required when initially enabling a SoftPlan WorkStation.
SoftPlan Network is offered to you at a fraction of the price of ordering multiple keys and you won't have to worry about keeping track of multiple keys.
Toolbox
A SoftPlan 2012 tool you may have missed:
Section Poly Line

Section Poly Lines are useful for creating stepped cross sections in which certain features are to be included or excluded. In the example below, it was desired to see the entire kitchen, study and bath in the section. A straight line could not have been used to accomplish this so a Section Poly Line was used. The Section Poly Line has been highlighted for illustrative purposes.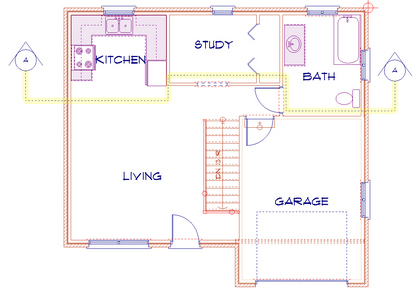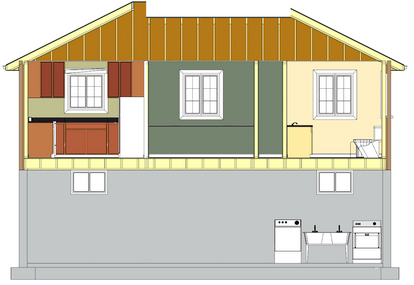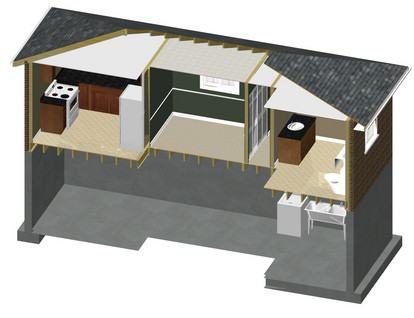 To draw a Section Poly Line:
1. Select Model > Section Poly Line.
2. Trace a line where you want to place your first section line segment.
3. Click on either side of the traced line to indicate which side of the cutting plane is to be visible.
4. Continue tracing section line segments.
5. Right click to end the Section Poly Line.
TechTips
Here are a couple of questions our technical support staff has gotten recently.
Q: In the Texture dialog there is an Emissive option. What does it do?
A: The Emissive option is used to increase or decrease the amount of light being given off by the texture being edited. By increasing the emissive quality of a texture, you can make the texture appear as though it were glowing.
Q: How do I reset my Navigation pane, 3D View or 3D Camera controls to their default state?
A: While viewing the 3D model, select Window > Reset Layout. The 3D Controls and the Navigation pane will be returned to their as-shipped state.
Q: Once I have a texture set up the way I like it, is there a way to save the texture so I don't have to set it up again?
A: Yes. Select the texture you wish to modify. In the Texture dialog, make any changes you want to make. While still in the Texture dialog select the Save button at the lower right of the dialog. Enter in a file name for the texture and then press Save. When you want to use that texture again simply return to the texture dialog and select Load. Find the file name you created and then select Open. You can modify the texture further or you can simply select OK to apply it to the selected surface.
SoftPlan Training Programs
People have really been enjoying the live online training classes. Luckily, we're offering a 4 day intermediate class running from June 21 through the 24th.
The
Intermediate class
will briefly review the basics of drawing in SoftPlan and detail how to draw and modify in 3D. You'll learn how to create complex roof and ceiling designs, draw decks, create a stepped wall and much more.
Register now
to secure your spot!