SoftList Material List Module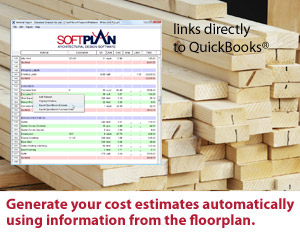 SoftList offers flexible and accurate estimating through a variety of user customizable features. Eliminate the errors of manual calculations by letting SoftList do the work for you.
SoftList uses the details from your SoftPlan drawings as a database of information containing items such as walls, windows, joists, and more, and uses this information to estimate the amount and cost of materials needed for a project.
Labor and waste factors can be added on a per material basis as each material within SoftList has an individual waste factor assigned.

Materials can be estimated individually, as assemblies, or as allowances.

Finished materials lists can be exported in those formats to most major accounting packages such as QuickBooks® or in an Excel type spread sheet.
SoftList allows you to link labor costs with materials. Overtime, you can track and update these costs to make estimates increasingly accurate.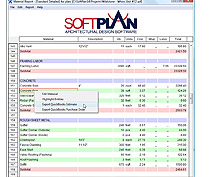 Changing pricing is simple with the user ability to track up to three different price quotes per material. Costs can be imported into SoftList from whatever accounting package your business uses by assigning an item or part number.
Report styles can be edited to specify information such as columns, headings, materials listed, and totals calculated for a report. Create a detailed report for your own use, listing items such as markup, labor, and waste separately, or create a summary version of this report for client use.
As a material management provider for everyone from Top 10 production builders to small, local custom builders, we can't settle for anything less than accurate. Using the flexibility of SoftList, we're able to meet the material reporting needs of our largest clients. This is a difficult task given the complexity of a multi-divisional builder operating across multiple regions, states, and markets. And, we can typically save clients between $1,000 and $4,000 per plan on excess material costs.

Design2Bid – Darren Schwartzkopf
Colorado Springs, CO
Additional Features:
Assign a waste calculation for each material.
Customize lumber pricing tables for different types of lumber or lumber suppliers.
Edit formulas for precision calculations based on the way you build.
Edit report styles: One may show total cost of the project for presentation to your client, while another shows your hard costs, mark-up, and labor rates.
Export your material list to a job costing and accounting program, spreadsheet, or word processor. Once calculated, the SoftList report can be easily exported for further processing by spreadsheets, accounting, and estimating packages. Any application that can read Microsoft Excel® files should be able to open exported SoftList Reports.
Item cost can be easily imported from outside sources, the lumber company, or your current price spreadsheet for example.
The material list includes the following categories:
Material: List of construction materials broken down into major categories such as Insulation, Exterior Finish, Framing, Roofing, Kitchen Cabinets, etc.
Description: Description of each material's dimensions and/or style.
Quantity: Deadly accurate material quantity.
Units: User-definable units of measure.
Cost: Cost per item.
Markup: Percent cost mark-up.
Labor: Labor cost per unit.
Total: Total cost per material and total project cost.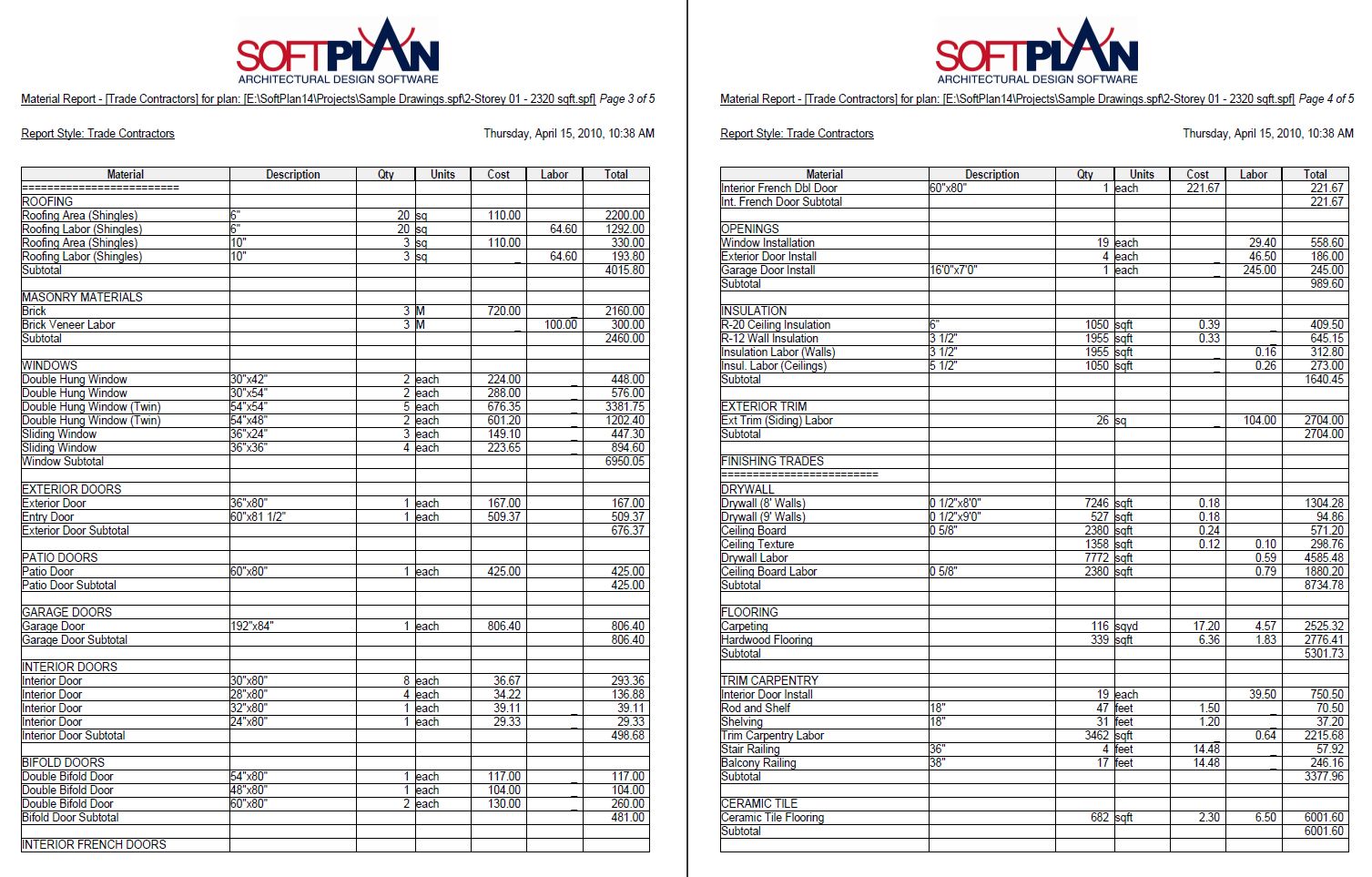 Enjoy better design management, improved cost control, and increased profits.
Once your design has been completed, generating a complete material list is as easy as the click of a button. SoftList will automatically generate a complete list of materials required for construction. Ensure minimal waste by generating a cutlist report showing the number of lumber lengths required and how to cut the material pieces. Pricing, labor rates, markups, etc. can be stored in SoftList, resulting in a quick, yet accurate cost estimate for construction. When remodeling, generate a material list only from the new walls and materials. This generated material list can also be exported to other software packages including estimating, accounting, and scheduling programs. Eliminate the errors of manual calculations by letting SoftList do the work for you!
"Getting me more work"
What piqued my interest? The material take-off. I tried using another estimating program but I found that I still had to do a lot of figuring. Plus it was so cumbersome, time consuming and inaccurate. But SoftPlan could look in every nook and cranny, and give me an accurate list. I put it through a rough test too. I drew six different wall types and placed a wide variety of window styles and sizes - and with a push of a button - a complete material list. No more running out of materials or over guessing. The SoftPlan materials list saves me time and my profit margin has gone up by 5% - 7% in the first year. And before it was hit and miss with my pricing per square foot. Now with SoftPlan, a customer can come to me with a rough sketch, and I can produce a very close cost estimate in a day. This is getting me more work.

Michael Farragon of Stonegate Signature Homes
Sample SoftList Reports: