My SoftPlan version 14 has stopped working. I have not knowingly made any changes to the system. How do I fix it?
If you get one, or both of the following messages upon start-up, it is likely caused by the removal of SoftPlan's shortcut.dll file by software used to detect spy ware or by your virus scanner.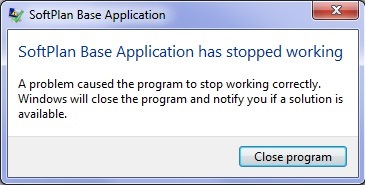 This issue started with Avast and Windows Defender on July 5, 2013.

If the shortcut.dll file is found to be quarantined, unquarantine the file. If you are unable to find the file and it has been deleted, use your SoftPlan installation disk to update the software. That will replace the missing shortcut.dll file. If your installation disks are not current to 14.4.4, install the necessary patches to update the software to 14.4.4.
To avoid this occurring again, you may need to exclude the file from future scans. Under the options for the spy ware software, there should be an option to exclude files and folders. Using this option, select the shortcut.dll file found in the SoftPlan folder on your system.