Electrical Layout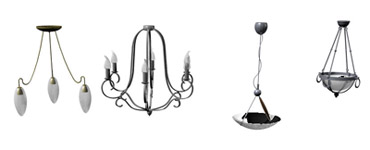 SoftPlan's Electrical Mode can be used to create complete electrical layouts including fixture, light switch, and outlet placement. If the same drawing being used for construction drawings is what is used for the electrical layout, then you can be assured of consistency on printouts.
When inside the electrical mode, drawing items are geared towards electrical type symbols and drawing tools associated with electrical. Tools such as the Auto Outlet drawing tool, which will place outlets at your pre-defined specifications with just a single click of the mouse, are sure to be a time saver.
Finally as you are laying out lighting fixtures within SoftPlan, note that you will also be enhancing your 3D layout as these symbols have light sources embedded directly within them. At your command, the SoftView 3D model will calculate the necessary shadows based upon the light sources within the model. And as necessary these light sources can be adjusted for brightness or even turned on or off.
When the electrical has been added, you will have the option of generating a schedule with just a few selections of the mouse. The electrical schedule is completely flexible in what is displayed. For starters, the schedule can be of only the plan on screen or of the entire house. Additionally you control what symbols, terminology, etc. are generated on the schedule.