Dimensioning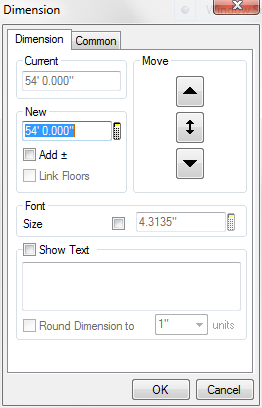 During the design phase, SoftPlan's Auto Dimension and Extension options will add the necessary dimensions to walls and openings using your user definable options. At any time this feature can be quickly disabled by simply clicking on the icon located on the toolbar.
In addition to allowing complete flexibility to define where dimensions are pulled to and from on a given plan, SoftPlan's Link Floors option will allow for dimensions to be modified on one plan and have the same change applied to all corresponding plans. This option will not only cut down on making the same change multiple times to multiple plans, but it will also lessen the likelihood of errors and/or inconsistencies between plans.
Other tools include the ability to pull a dimension diagonally corner to corner ensuring that the foundation layout is square. Site plans can be fully dimensioned, including the dimensioning of non-parallel items such as from a site line to the building outline.
Overall, the options are limitless, allowing for complete control to be in the hands of the designer.