Cabinet Layout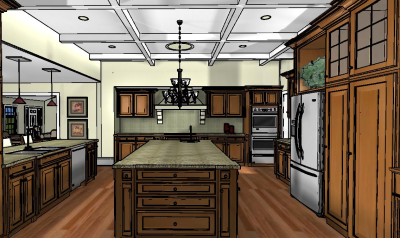 SoftPlan provides a variety of commands and automated features to make the placement of cabinets simple yet customized for your specific building requirements. Cabinet libraries offer hundreds of pre-defined cabinet symbols that can be readily added to plans with just a few selections of the mouse.
When a detailed cabinet selection and placement is desired, cabinets may be drawn individually with user defined dimensions, finishes, and door styles. Simply select from the list of choices within the library and insert into the drawing according to style and size needed.
In the event that all that is needed is simply a run of cabinets, this can be drawn quickly using the Auto Cabinet feature. Auto Cabinet allows you to preselect both type (upper, lower, vanity), door style, and cabinet finish, then simply trace where the cabinets line is to be placed. SoftPlan will automatically determine the widths to best fit the available space and add them, even accounting for any windows, doors, and appliances which may already be in place.
Finally SoftPlan allows for quick, but accurate detailing to be completed to the cabinets, including the ability to add crown molding, modification of the overhangs and back splash assignment, even hardware assignments. As with many other items in SoftPlan, if further customization is needed, you can create your own libraries or modify existing ones.

Whether it be during or after the design, a cabinet layout can be viewed in SoftView 3D and modified as both in the design as well as texture assignments.