Areas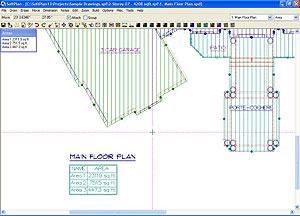 The Area function can be used to create quick estimating for items such as framing labor. Using the Area function, you can readily calculate the total area of your floor plan, the area portions of your floor plan, or of individual rooms.
Auto Trace can be used to select an enclosed area. To use this method of defining the area, click inside the perimeter of the enclosed area. SoftPlan then determines the perimeter and calculates the area. SoftPlan also places reference points on each exterior wall edge. If the wall is moved, the area snaps to follow.
SoftPlan stores the area of the area defined and the perimeter of the area defined. These can be used in SoftList formulas for calculating material quantities needed for the area. User controlled settings allow area to be calculated from inside a wall, inside a stud, or outside a surface.
Twenty areas are available for renaming. Users can customize these to meet the needs of their specific design. For example, porch area, garage area, etc.