SoftPlan 2014 New Features: Cabinets
---
Angled Walls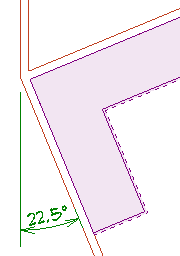 Placement of Cabinets against angled walls, particularly walls at 1/2 degree increments, improved.
---
Auto Cabinet

Cabinet Finish and Face Style are synchronized so the upper and lowers look the same when they are added.
---
Auto Size
Cabinets automatically resize to fit the available space when the selected Cabinet is too large to fit.
---
AristoKraft
AristoKraft manufactures library added.
---
Back Panel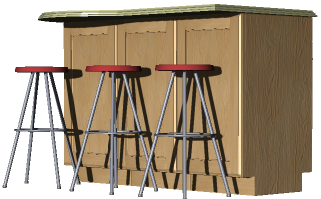 Cabinet Type Back Panel added.
---
Built-Up Crown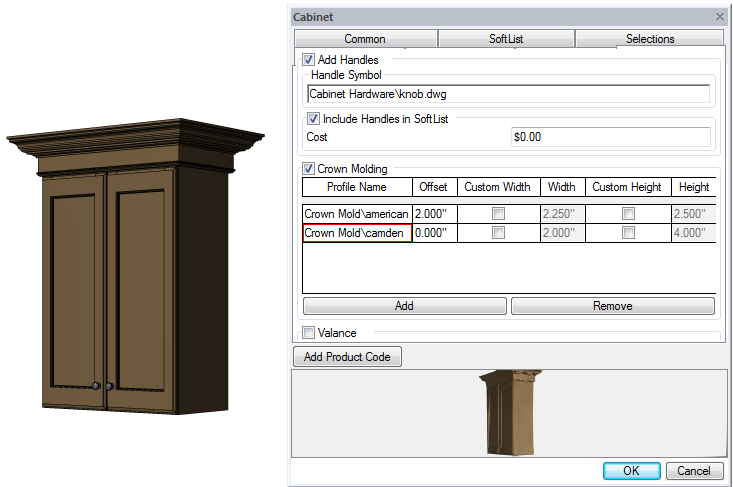 Crown Molding can be built up using multiple trim profiles. The pieces are automatically aligned in the proper position.
---
Cabinet Face
Draw Cabinet automatically recalls the last Cabinet Face selected.
---
Countertops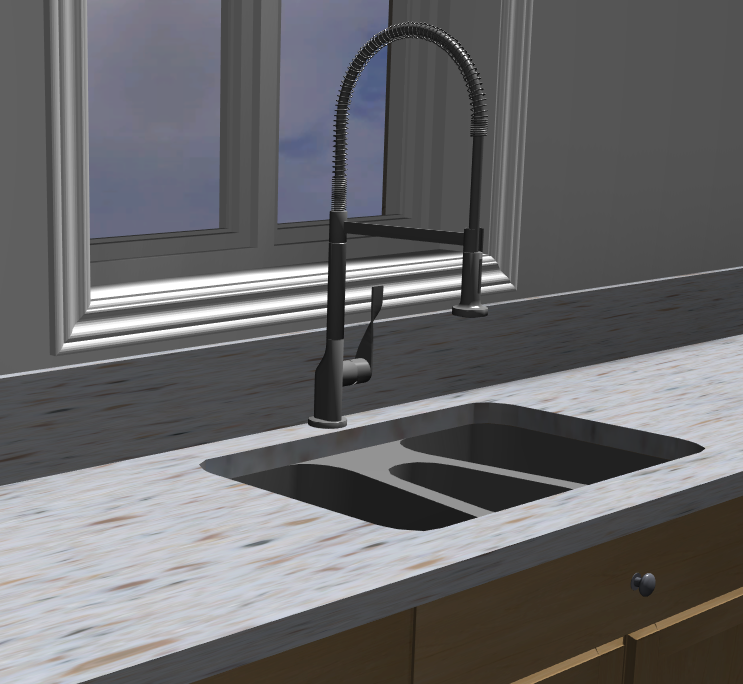 Holes cut in countertops automatically have the edges filled in.
---
Countertops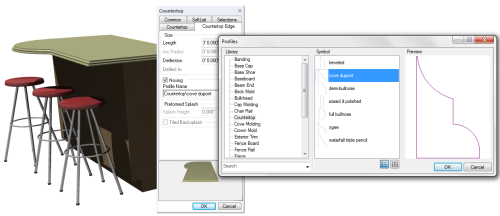 Freeform countertop edges edit in 3D.
---
Countertops
Snap will locate on a countertop line.
---
Crown Molding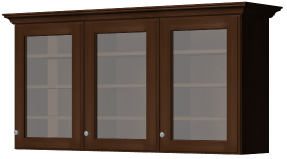 Crown Molding can be automatically added to the Cabinet Run. Older versions required they be added in Interior Mode.
---
Doors

Doors can be stacked on top of each other on a single cabinet box.
---
Draw

The Draw Cabinet menu is no longer stepped making it quicker to select the commands.
---
Elevate Cabinets

Countertop Backsplash is added automatically by the Elevate Cabinet command.
---
End Panels
End Panels can be automatically added.
---
End Panel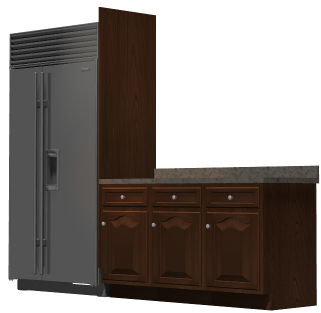 Cabinet Type End Panel added. Used to cover the side of refrigerators.
---
Face Layout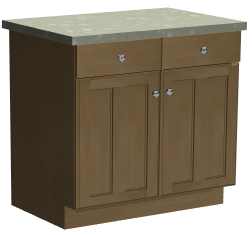 Face Layout - 2 drawers side by side over two doors added.
---
Face Layout
The layout of a Cabinet can be modified directly on the Edit Cabinet dialog box, eliminating the need to go to the cabinet library.
---
Face Layouts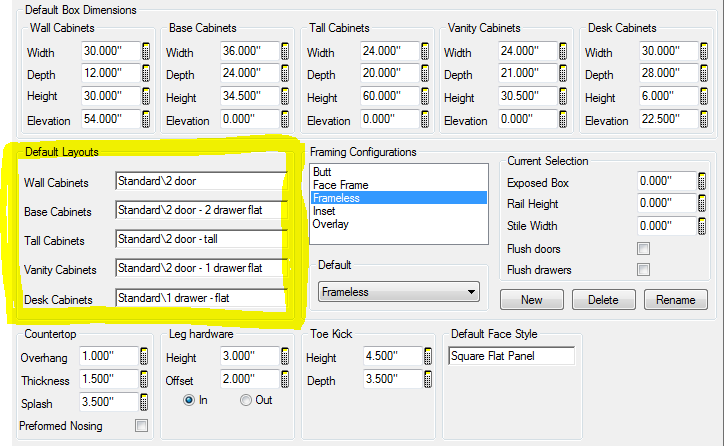 Cabinet Face Layout defaults added to System and Drawing options. This allows different type of cabinets to de drawn with different door and draw arrangements. For example a base cabinet can be set to draw with a drawer over door while a wall cabinet defaults to two doors.
---
Face Style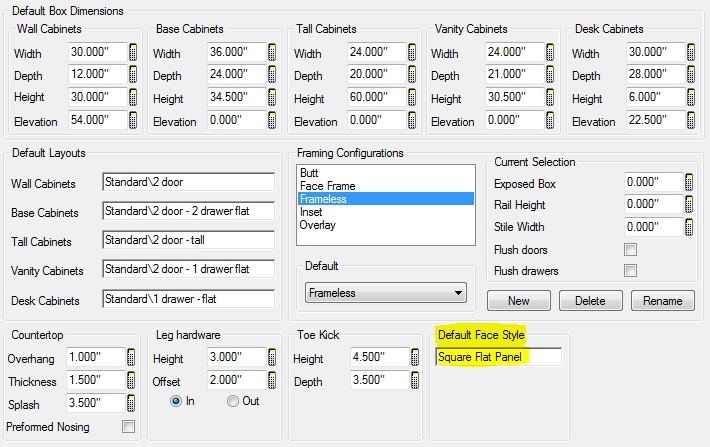 Default Face Style added to Cabinet Options, at the System and Drawing level. So all cabinets will be drawn with the desired face style.
---
False Front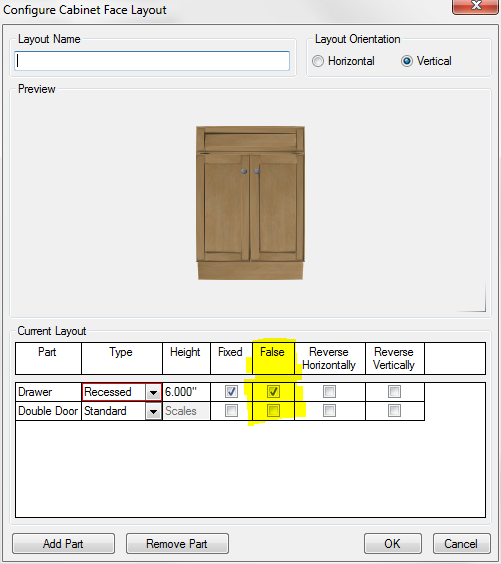 Any cabinet part can has a False selection. Used to identify non-operating parts such as sink fronts.
---
Framing Configuration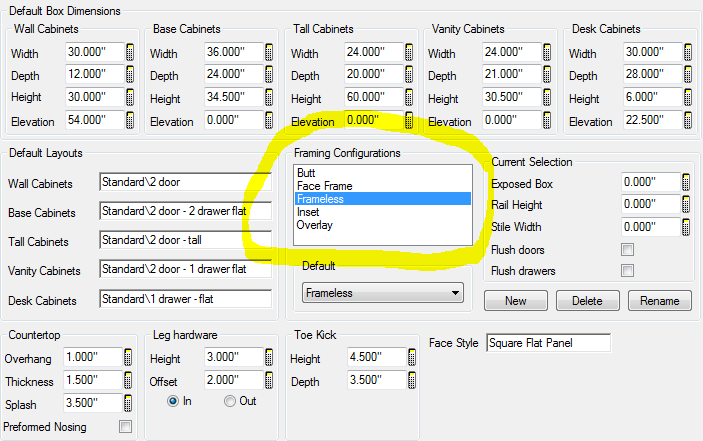 Cabinet Options, System and Drawing, have added Framing Configuration. This allows a user to set the defaults Cabinets to be Framed as Frameless, Inset, Butt, Overlay, or Face Frame.
---
Fillers
Fill Cabinets automatically resize to fit available space.
---
Hardware Position
Cabinet hardware is positioned relative to the edge of the cabinet door or drawer resulting in a consistent position as the width of the cabinet change.
---
Hardware Position
Cabinet Face can be reversed Horizontally or Vertically. This changes the hardware location.
---
KraftMaid

KraftMaid cabinet libraries added.
---
Lighting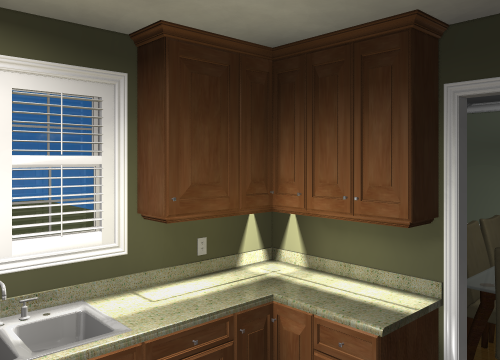 Under Cabinet Lighting added. Light option on the Edit Cabinet dialog automatically adds a light rail.
---
Manufacturers Library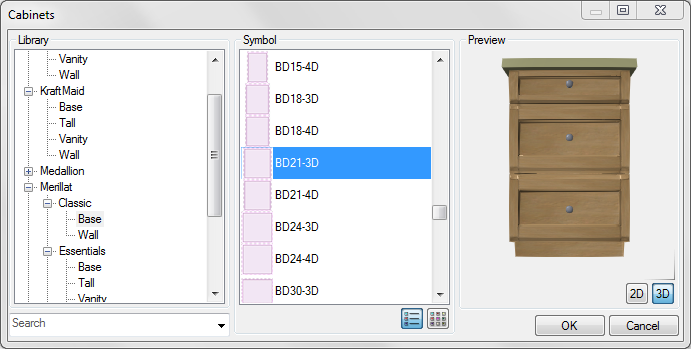 Cabinets in the manufacturers libraries display a 3D preview for easier selection prior to drawing.
---
Matching Layout

Matching Layout searching added to Select Cabinet dialog. There are now so many Cabinet Face Layouts that a search mechanism had to be added to make finding specific arrangements more efficient.
---
Merillat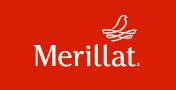 Cabinet lines Classic and Essentials lines added to the Merillat manufacturers' library.
---
Open Cabinet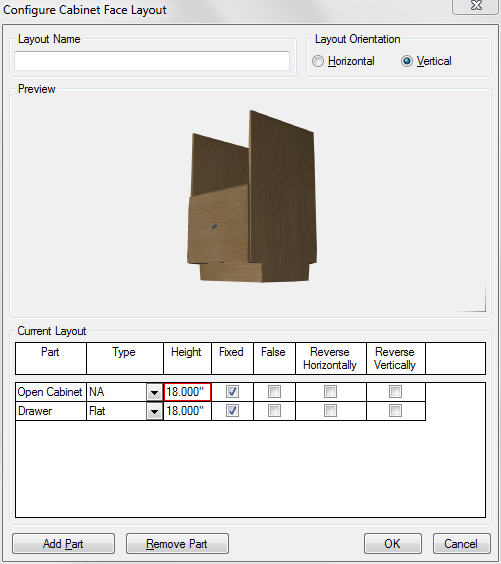 Cabinet Part: Open Cabinet added.
---
Oven Cabinets
Double Oven Cabinets added to default libraries
---
Pantry Cabinets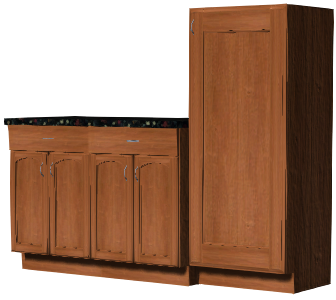 Tall single drawer pull out cabinet styles added, typically referred to as pantry cabinets.
---
Pull Out Drawers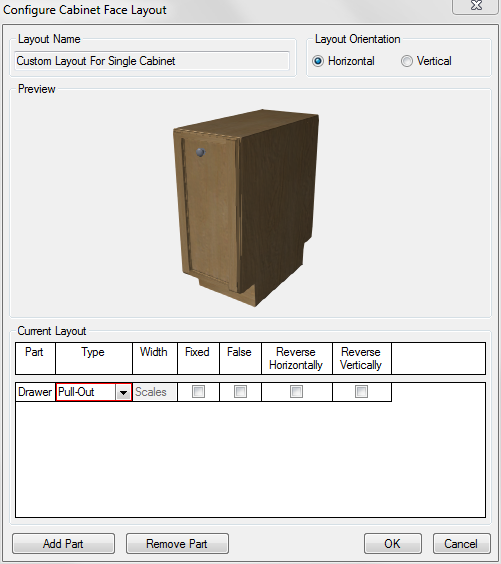 Drawer Type Pull-Out added. Used for large drawers and tall cabinets.
---
Preview

Cabinets display rendered, previous versions used a vector preview.
---
Preview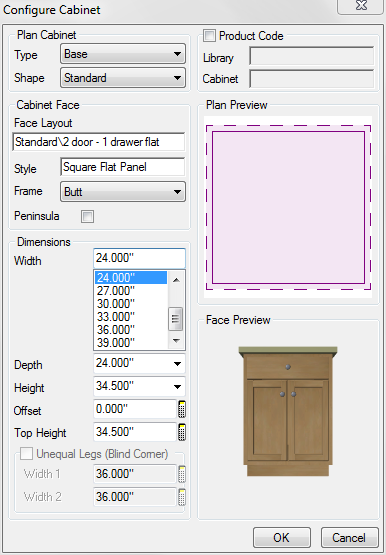 Hardware displays on the Cabinet preview when drawing or editing a cabinet.
---
Rails and Stiles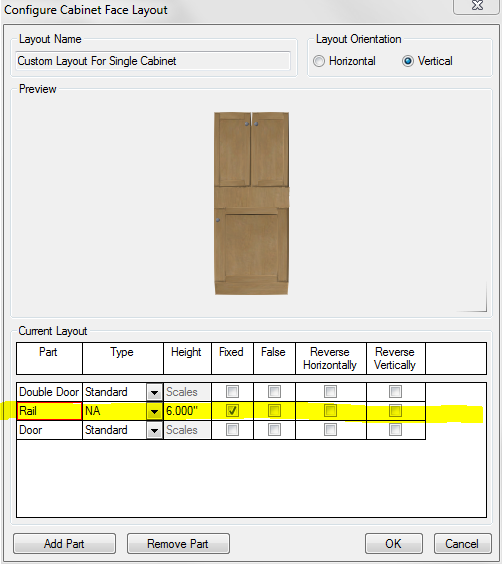 New custom cabinet face configuration utility has Rails and Stiles as parts that can be added.
This allows user control of the width of the Rails and Stiles.
---
Show Names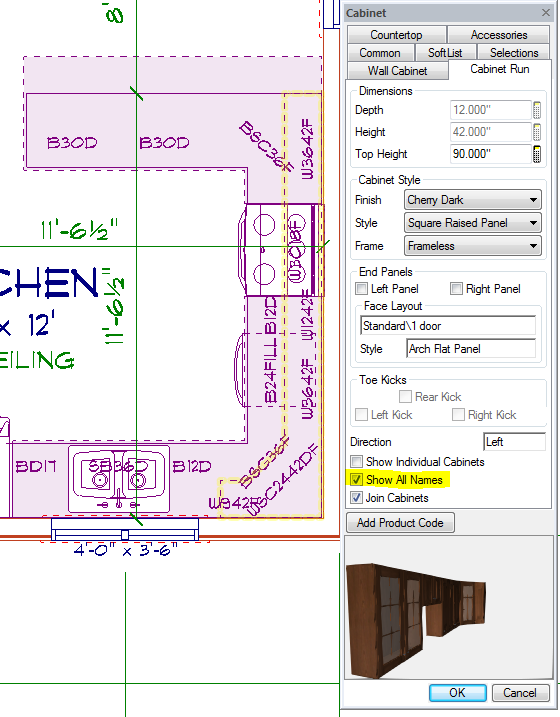 Show Names option added to the Run tab. When selected the designations for all the cabinet in the run display.
---
Snap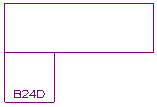 Cabinets automatically snap back to back making creation of islands easier.
---
Tiled Backsplash

Edit Cabinet Accessories tab had a Tiled Backsplash command. This adds a backsplash of a set height and depth or automatically to the bottom of the wall cabinets.
---
Toe Kicks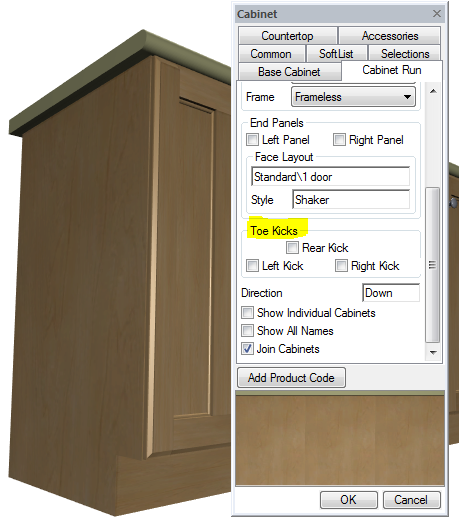 Individual control over the appearance of Toe Kicks added.
---
Wheels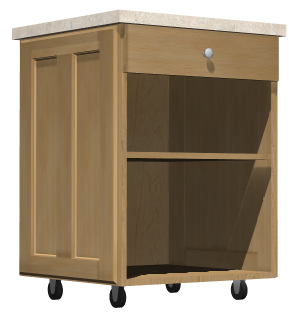 Cabinet Legs can be set to wheels.