SoftPlan 2012 New Features: File
---
DWG Import improved
---
SoftPlan AutoCAD® SoftPlan Round-trip
When a .DWG file is created by SoftPlan the drawing data is embedded into the file. When the same file is brought back into SoftPlan the SoftPlan data remains intact. The SoftPlan data and the AutoCAD® data co-exist in the same file. This allows a drawing to be sent to an engineer, modified, and then only the new information be brought back into SoftPlan.
---
Import AutoCAD® 2010 DWG added
---
Import Sketchup 8 .SKP added
---
Import of DWG & DXF includes layers that are turned off
The tuned off layers will automatically be turned off in SoftPlan by default.
---
Import Metafile added
---
MiTek®
Export to MiTek® structural engineering software added.
---
Navigation Window added
The navigation window makes moving between the various parts of a job quick and easy.
---
Project File added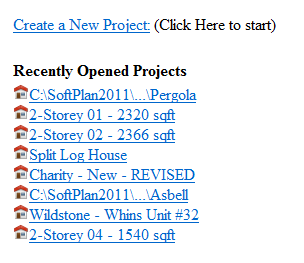 The project file is a stores and organises all information involved with a job. Drawing workspace arrangements, floor stack, anything to do with a single house. When a project file is opened the screen will appear as it did when the job was last closed.
---
Paper Space / Model Space option added to DWG import
If an incoming AutoCAD® DWG file contains both Paper Space and Model Space definitions a prompt on which to import will appear.
---
Save All command added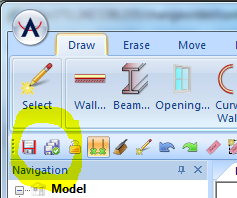 Located on the default toolbar Save All saves all data associated with the open project.
---
Save Project Revision command added

Replaces Save Revision command